Our Name - Why Wildcat One?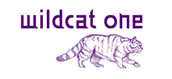 The Scottish Wildcat gives a strong brand identity, with a clear sense of the company's Scottish roots. Additionally, 'wildcat' is a term used in the oil and gas industry for pioneering and problem solving.
Distinctively different, with just a hint of 'edge', it also fits the company's characteristic 'cut to the chase and say it as it is' approach.