WILDCAT ONE SPONSORSHIP
Wildcat One has a policy of 'giving something back' and actively supports a number of charitable and sponsorship projects.
Scholarship

Aberdeen University
A Wildcat One bursary award has been established at the University of Aberdeen, for Entrepreneurial Studies under-graduates. One student will receive additional financial assistance for the duration of their degree course. Wildcat One also funds an annual book prize for the most successful Management Studies student of the year, in Change Management.
Aberdeen University Entrepreneurial Studies Course >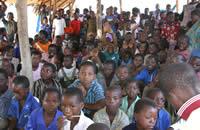 Children at Nanthomaba School, Malawi
Nanthomba School, Liwonde, Malawi
Whilst on a speaking engagement to Malawi, Pat Tomlin, Wildcat One's Director, visited a school in Liwonde. The school is run by volunteer teachers and there are over 800 children. Many of these children come from impoverished backgrounds and over a quarter of them are orphans, due to the aids pandemic in Malawi.
Wildcat One subsequently made a donation to the school, to help buy basic text books, exercise books and pencils for all the children. The money also helped provide clothing for 20 very vulnerable orphans. Chalk, boards and sun-shades have also been purchased for the school.
Wildcat One sponsored a documentary film called 'Last of the Scottish Wildcats', which has been released on DVD. The film looks at both the natural history of the Scottish Wildcat and the substantial threats it faces today - with estimates of only 400 'pure' Wildcats remaining in the wild, extinction is highly likely within the next 10 years.

The film was produced by Coffee Films, a British independent film production company recognised last year as one of the UK's leading production teams. It is their first project dealing with the natural world.
On the back of this initiative, a new charity has been set-up by Steve Piper, the film director and producer, and the Scottish Wildcat Association aims to help save the Scottish Wildcat from extinction. Pat Tomlin, Director of Wildcat One, is also one of its Trustees.
Trailer: Last of the Scottish Wildcats (3Mb .wav file) >
Highland Wildlife Park
Wildcat enclosures
Wildcat One enabled an innovative project to go ahead at the Highland Wildlife Park, part of the The Royal Zoological Society of Scotland (RZSS), near Aviemore, in the Scottish Highlands.
A series of aerial wire-mesh walk-ways, leading from existing animal enclosures, now allow the Park's Scottish Wildcats and Pine Martens to explore the tree-tops in a more natural way. These 'tree-spans' had not been used for small predators before, but have proved a great success: the cats use the spans to play, feed and sleep in, allowing visitors to get a much better view of these very secretive animals.