WILDCAT ONE COACHING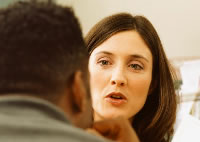 Wildcat One Coaching works predominantly with CEOs, Directors, board potential executives, senior management and professional skills clients. We also have a track record in coaching SME business leaders.
We specialise in coaching that help clients address issues around organisational and personal change, leadership, improving communication skills, stepping into new or more senior roles, performance improvement and self confidence - See below for examples >>
The duration and nature of any coaching programme is entirely driven by the required outcomes and how quickly the client wants to achieve them. Sometimes this can be done in a single session - sometimes it takes a little longer. Many of the coaching programmes we do range from three - six sessions.
In certain instances, such as senior executive and board level potential development, it may be appropriate to design a 12 month programme.
Each case is fully discussed with the individual client and his/her organisation, prior to agreeing a particular programme structure and timescale.
Typical areas for coaching
The coaching services provided by Wildcat One include the following:
Leadership skills
Managing change
Developing high potential
Preparation for Board level positions
Interpersonal, communication and influencing skills
Self awareness, self management and awareness of impact on others
Self presentation and personal impact
Getting to grips with new roles or promotions
Political acumen and raising profile
Self belief and self confidence
Smoothing off 'rough edges' to realise greater potential
Providing a confidential sounding board
Time management and work/life balance
Team performance
Wildcat One Career Health-Check
This brief questionnaire is designed to help you think through areas of your career that you would like to improve, or where you may perceive there are barriers to your current or future progress.
It will help you to clarify the key areas you would like to change. Having defined these areas, you may feel ready to prioritise what you want to do next and how to do it. If not, contact Wildcat One to help you achieve your goals.
Download the Wildcat One Career Health-Check (in PDF format) »
Find out more
See About coaching for more about our approach to executive coaching.